Most of my envelopes work perfectly - but the monthly bills seem to have got more than a little confused.
Here's an example - I just paid my cellphone bill (it's due on the 7th, but it actually came out on the 9th, the company is a little variable, but it's always within a day or two).
It's meant to fill $15 a week, but it keeps deciding that I'm behind and filling extra? I can stop that by setting to a specific amount, but if I set the specific to the same as the budget, it reverts.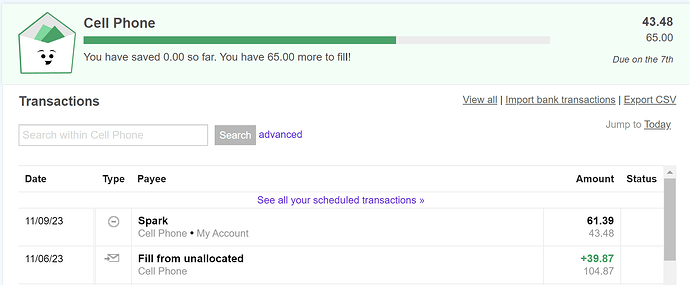 It had exactly $65 in there when it decided to add $39.87
It's got $43.48 but it thinks it's got 0
On my phone, it's showing as 'You're behind by 12.85. Stop spending for 6 days?'
Which is weird, because by my calculations, I'm ahead by $36.98.
It's like it doesn't understand when the 7th of the month is, at all, or it's not recognising the funds…??
I'm so confused. Do I just delete the envelope and start again? I really don't want to.