I'd like to search for transactions with a range of dollar amounts such as $200-300. Is this possible?
I couldn't find a way, but I sure hope someone can tell us. I also need to search on multiple types and am not able to.
Hello @karisa, this would be a good feature to add to the list of improvements
I agree with Wayne @Karisa, this would be helpful! Sorting, filtering and subtotals are sort of "intermediate" spreadsheet skills that some folks may not have been exposed to.
@karisa Thanks, I thought not but was crossing my fingers. I've been using Goodbudget for years and have wanted this feature a long time. I know how to do the CSV export and it is quite cumbersome when dealing with thousands of transactions. The advanced search feature on the app interface has many other useful filtering options, why not add the $ amount search range like most other financial websites allow?
Thanks for letting us know this is something you'd like to see. We aren't working on something like this right now, but I've added it to our features tracker for future consideration.
@flexman5000 For your question directly, I can't say for sure why an enhancement like this isn't currently a filtering option. It's probably a combination of lots of things, like we didn't have this on our request tracker prior (that's not to say that we will definitely implement it now that someone has requested it), and we've been focusing our efforts on a few other things. (Check out our Roadmap and Changelog to see what we've been up to.)
@karisa Not sure what it would take to create such a feature but added in the ability to create basic search terms like less than <, greater than >, etc., could be an easy way to implement. Just a thought. Would definitely give the advanced search a more precise function because a lot of the times when I try to find a transaction, I don't know what envelope, account, or date it is.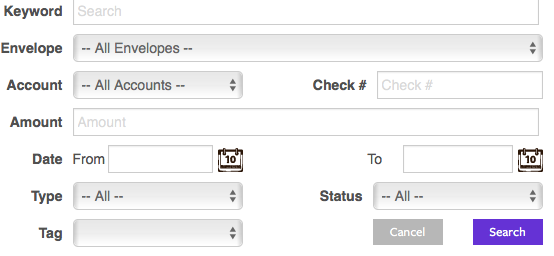 Sorry for my delay! Thanks for the extra details; I've added them to your request card.
In the meantime, exporting your data is still the best workaround. But a coworker just showed me a trick that you might find helpful. If you're looking for something between 200 and 299, use the advanced search and enter '2%' in the Amount field. When you do that, GB will return all relevant transactions that start with the number 2. Again, you'll still have to export the data to order everything, but it will significantly cut down the number of transactions you'll need to work with.
Thanks for that tip, it can be useful.